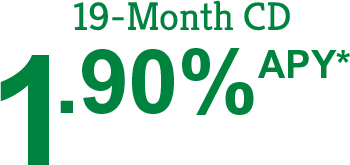 Grow your funds with a safe investment…
100% insured through the FDIC and the SIF
Get this winning CD rate for a limited time!
Visit one of our branches to
open today!
Questions? Call us at
888-307-5887
---
* 1.90% Annual Percentage Yield (APY) effective as of February 7, 2018. Minimum opening deposit is $1,000. Minimum daily balance to obtain APY is $0.01. $250,000 maximum deposit per household for 19-month term only. Substantial penalty for early withdrawal. Automatically renews at maturity for 18 months at the then current CD rate and term. Interest compounded monthly. Offer available for a limited time and may be withdrawn without notice.